Come and fly with me – Anekke Aviator
Whenever you do something for the first time, you just can't help feel a mixture of nerves and excitement, a combination of feelings that, however long has gone by, you will never forget. And this is what happened the first time I got into a light aircraft: as soon as the engine started to roar and we took off, I knew that I would never stop flying.

This very first time when I flew I knew that from that moment onwards, a little part of me would belong to the air. That my dreams had wings, which were as long as the sky I was flying across, and that I could no longer go without that unique feeling: the butterflies in your stomach when your feet rise above the ground, together with the feeling of freedom when the wind starts to tickle your face, with the clouds skimming past your aviator sunglasses and your hair flying, free and tousled.
At that moment, my debut journey in a light aircraft, I knew that I needed a lot of determination and desire to reach my destination, but if you can dream, you can travel. Taking the decision to make your dream come true is the bravest thing you can ever do, seeing as no other experience brings you as close to that feeling of happiness.
So, every day is a new journey to embark upon, feeling that you can get wherever you want if you dream about it, even if you dream at the same altitude as I do!
Towanda accompanies me on every trip, sitting on my lap, purring whenever he hears the sound of the propellers starting. And so, with the soft rocking produced when flying, I soar over oceans, mountains… the whole world!
Because if my dreams have wings, I am certain that yours fly high too. You just have to focus on a destination, get into my plane and let yourself go to feel closer to them. Come and fly with me!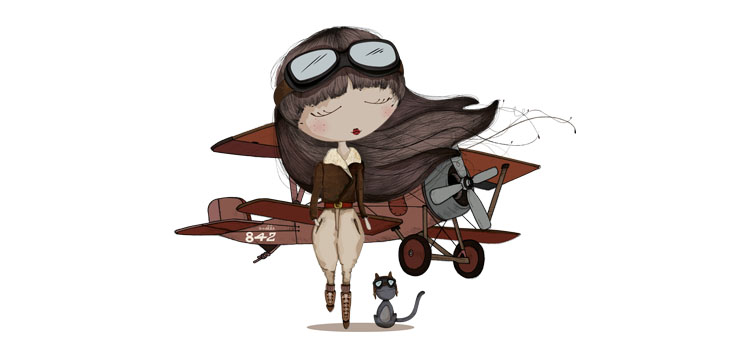 And if you want to know the collection inspired in this story, Anekke Aviator, you can do it clicking on this link. Designed with love for independent, strong and, above all, dreamy women.