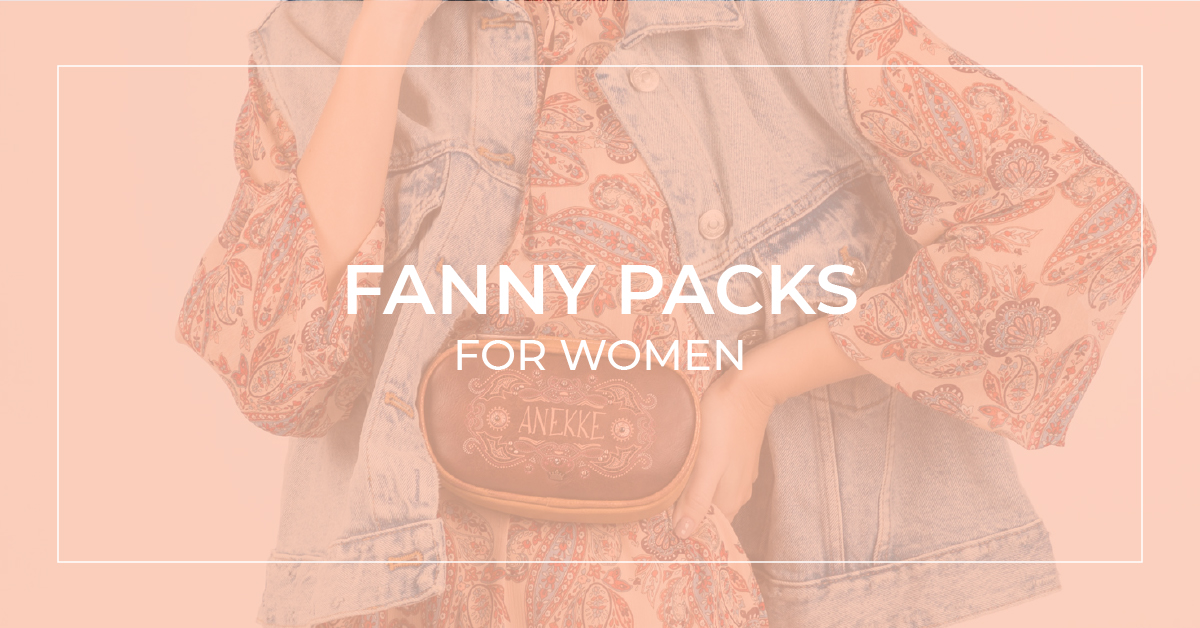 Bumbags for women? Yes, please!
Every woman is a world unto her own, with her tastes, her needs… and for a few seasons now, there is one type of bag that has come back to stay: women's bumbags. As well as being really comfortable, their designs adapt to all types of styles and rhythms of life. Women's bumbags? Yes, please!
Bumbags for women: comfort and design 
Although women's bumbags date back to the 15th century, today we know them because they were tremendously popular in the 80s and 90s, which is when this fantastic type of bag became a basic for men and women.
And for a few seasons now, the bumbags have reappeared in our wardrobes and in our looks. Thanks to the wide variety of materials, sizes and designs, they are one accessory that is not only practical, but also super pretty. And in this post we are going to discover them!
Many women prefer this bag for different types of situations, as they are worn around the waist they are very comfortable and safe. In fact, for the last few years they have been a real hit among travelling women (who prefer not to carry around a lot of weight with them and just take the basics), lovers of small bags and fashion trends.
It is becoming increasingly easier to combine them, thanks to the fusion between comfort and design, and they are here to stay and be part of your wardrobe. Would you like to choose the perfect one? I will explain to you what you have to look for!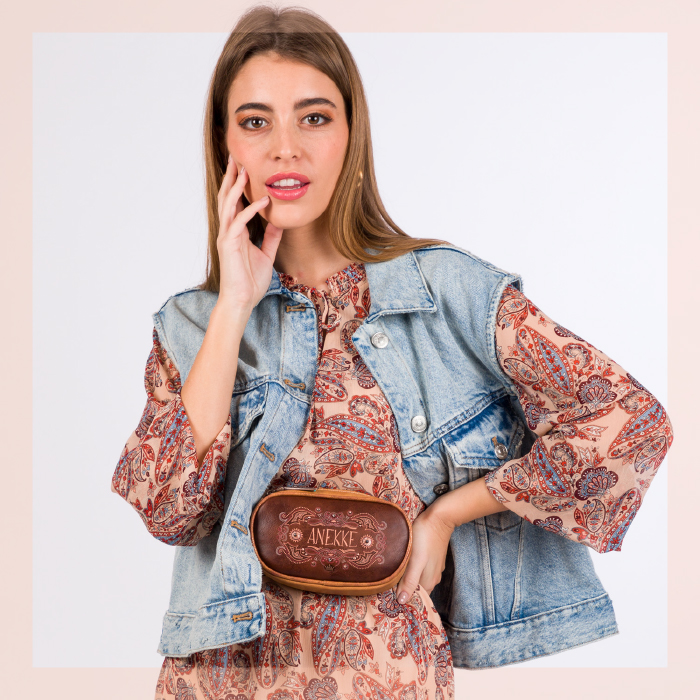 How to choose a perfect bumbag: what to look for
Whenever we choose a bag or accessory we have to take into account different criteria before making up our mind. Its size, design and ergonomics are fundamental to pick just the right one and this applies to bumbags too. Let's see what we have to look for!
1- Size: the bumbags (also known as fanny packs, belt bags, moon bags, belly bags) are a compact format of bag, they are normally used to put the most basic things in (mobile phone, wallet, keys…).There are different sizes available, which adapt to your needs.
Always have a look inside the bumbag, to see if it is lined, has pockets inside or on the back, because these details make your daily routine much easier.
The size of the belt is fundamental too. Each woman and her body are unique, so you have to check the length of the belt. The models available in my website fit around different waist sizes, because the length of the belts can be adjusted. Have a look at the product description to find out about this feature, fall in love with a design and… show it off!
2- Design: the design is something essential when it comes to choosing a bumbag. Its pattern or print, material, the shape… everything counts when it comes to picking out the perfect model. That is why you have to choose the model that you really like, which goes well with the type of clothes that you tend to wear.
How about these models below? Natural style, western style, velvet or vinyl, you choose!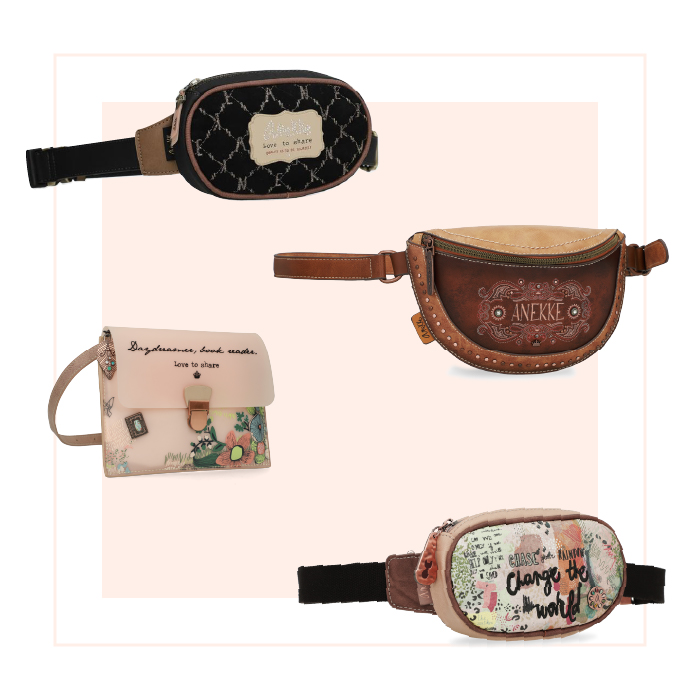 3- Ergonomics: what is pretty can also be comfortable, make a perfect combination. And now that you know, for Anekke it is indispensable that all our products are comfortable, and that they adapt to you. So when it comes to deciding on a bumbag, think about its shape and size, to guarantee that it is the most comfortable one for you. Round or classic shape? Small and vinyl or rectangular? Each model is unique, just like you!
Looks with bumbags for women
Bumbags are here to stay. It's true! That is why it is becoming increasingly more common to see looks with bumbags on the streets or in Social Media, because wearing a bag around your waist can really enhance the style of the clothes that you have on.
Depending on the season of the year or the style of clothes that you want to wear you can combine it in different ways: over a sport's jacket, with a cropped jacket to make it stand out, crossed over your chest… You choose! There are endless possibilities and I have a few ideas for you below that you can copy in your ultimate styles with Anekke bumbags. Find them here!
And as you know what you have to focus on when choosing from the most wonderful bumbags; you can treat yourself to one now! Whether it is for you or it is a gift for somebody, visit the website and have a look at the models that are available by clicking here. I am sure that you will end up buying one. Choose your favourite now!