When it comes to picking a perfect bag for daily use, backpacks have become more than a winning option. They are comfortable, they usually have enough room to take everything we need with us and, what is more, there are lovely models available that adapt to your style and your tastes. So, today I will give you a few tips to help you choose the ideal backpack for you, carry on reading!
What to bear in mind when you are choosing a backpack
When it comes to choosing a backpack, there are two fundamental features that must be taken into account. Seeing as you carry it on your back and you will probably use it on a regular basis, it is essential that it is comfortable.
And as each woman is a unique world, finding a model that satisfies your needs gets easier if you bear in mind these criteria. Follow them and you won't fail, for sure!
Size: As the saying goes, "there is no accounting for tastes". However, yes, it is true that the size of the backpack will vary according to your needs, your stature, your tastes…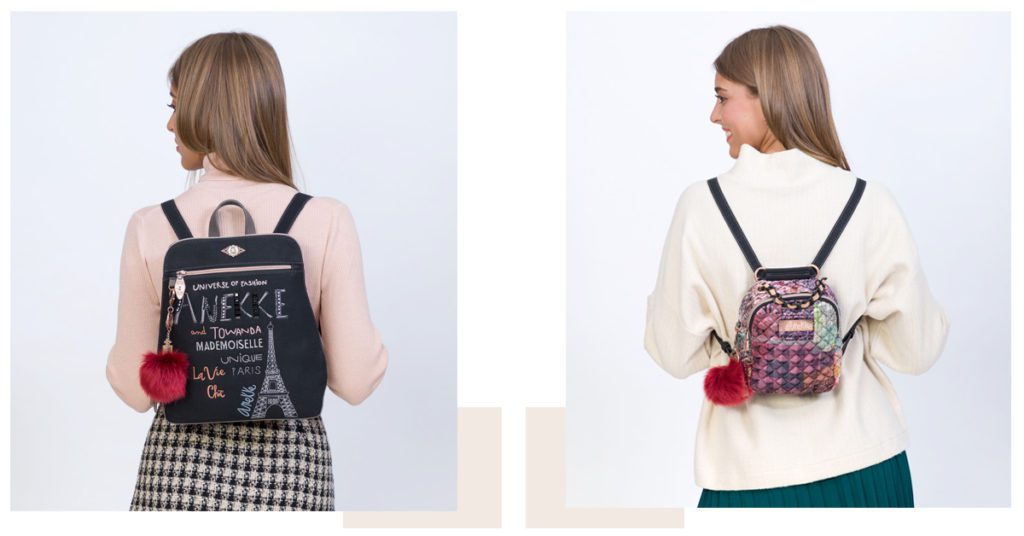 If you are someone who usually carries many things around with you, a bigger model with lots of room inside will obviously be better, so that whatever you normally need to take with you fits inside it. If you only want it as an accessory for when you go for a stroll, a medium size model will be splendid! And don't forget about the smaller models either for when you go out; they are definitely a good idea!
Design: when it comes to choosing any accessory, it is crucial that you have a good look at its design, so that it suits your tastes and the type of clothes that you usually wear. This guarantees that you will use it a lot and that you will make the most of it.
Normal backpack or a drawstring backpack?
This is a question that you ask me a lot and it boils down to what option is better for each one of you. The best answer in this case is the one that adapts the best to your needs, because each one has its strong points. Let's have a look at them!
Drawstring backpack: the drawstring backpacks, which are also known as fabric drawstring bags, are one of the most popular options for people who travel a lot, because they can be folded up, put inside a suitcase and they take up hardly any space. They are very light and comfortable, something that makes them the favourite type of backpack for lovers of music festivals, sportspeople and mums who need space to carry their children's things around with them and can use a pretty complementary backpack to do it. They are one basic that we should all have in the wardrobe; they are such life-savers!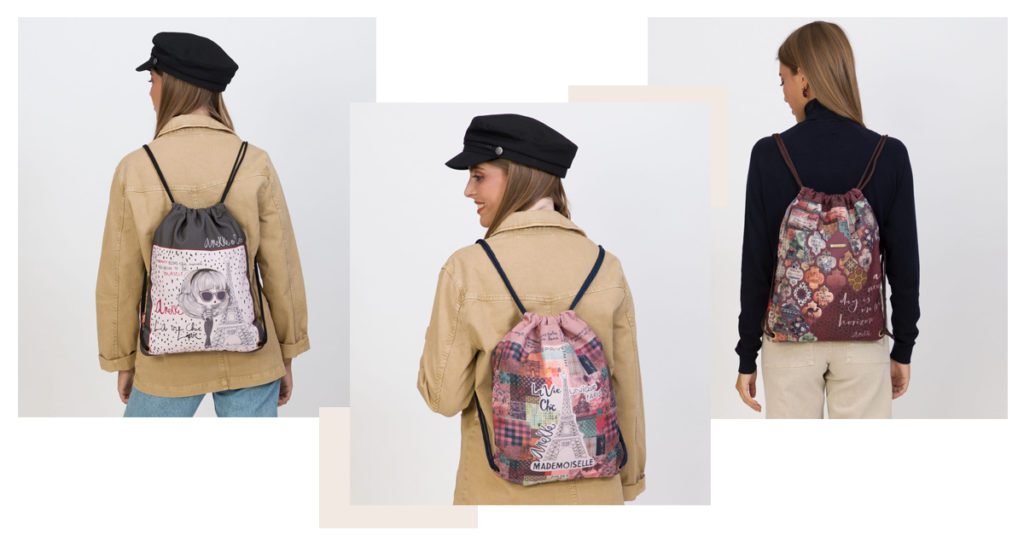 Normal backpack: if you want a model to use on a daily basis, they are usually the best option, because they tend to have pockets and compartments to put things in, they are more rigid and the straps are too… Some of them can even be transformed thanks to their straps, which make it possible to turn them into crossbody bags. No one could resist!
Indeed a backpack is a pretty and comfortable option that adapts to you, which means that at some point in time, when you see such delightful models like those that are available on my website, you have definitely thought about buying one, haven't you? Don't wait any longer!
Have a browse around my website and discover all the backpack models that are available for you. Designed with lots of love! ? How about you, which is your favourite backpack model? Tell me, I am reading!