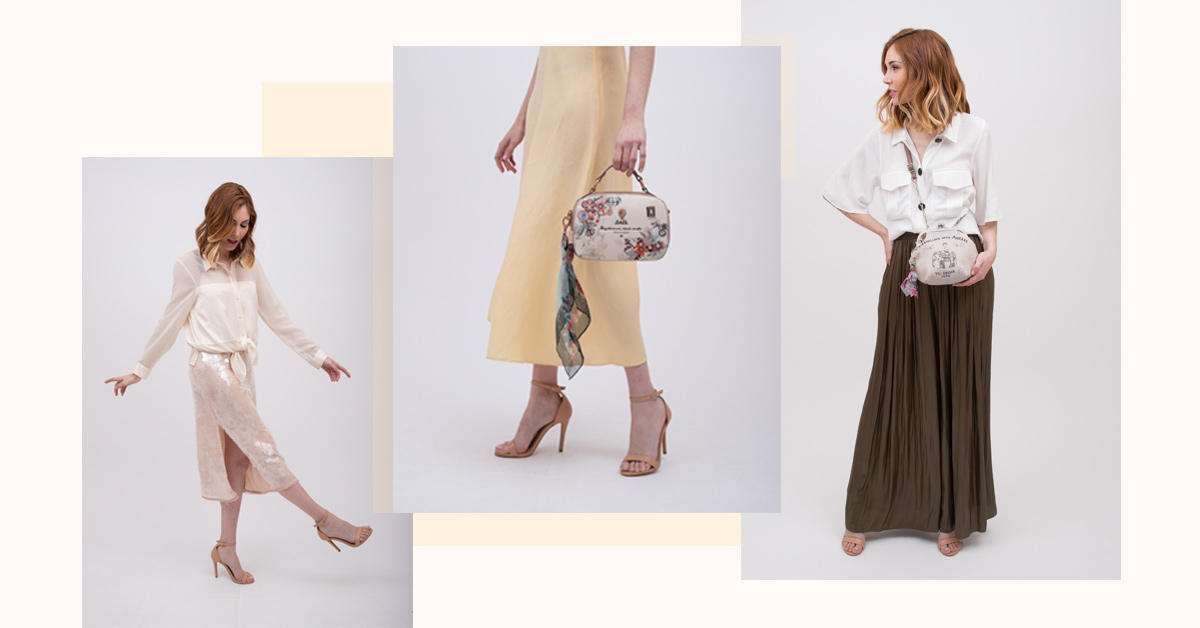 The best looks for summer events
Now that the good weather is here the celebrations begin, along with the invitations to events and the eagerness to go out and have fun. And with it, the eternal "what I am going to wear?" and the search for bags and accessories to create the best looks for the summer events. Does that ring a bell?
That is why I have a few ideas for you about how to round off a style with a bag. If you would like to know more, carry on reading!
Looks with a bumbag: for the most daring
Acquiring an elegant and carefree look is possible. Luckily, accessories can turn a style created with neutral or very basic garments into others that are strikingly modern, just like the bumbags.
Bumbags are one of the accessories that will be worn the most this season, so adding one to a look in which it is combined with a long garment, such as a jacket, might go down really well.
This model is from the India collection, it has two compartments with different colours and printed designs, which makes it easy to combine and very practical. A midi or long skirt in a bright colour could also be a great option for this model. What do you think? You can find this model here. And if you want to see more bumbags, have a look here. Make sure you get yourself one!
Looks that stand out on their own: vinyl bags
And for day or evening events, there is nothing better than a touch of elegance, choosing silky, flattering garments with a good drape, even adding something with shiny appliqué. If you choose neutral tones, what could be better than adding a touch of colour with your bag?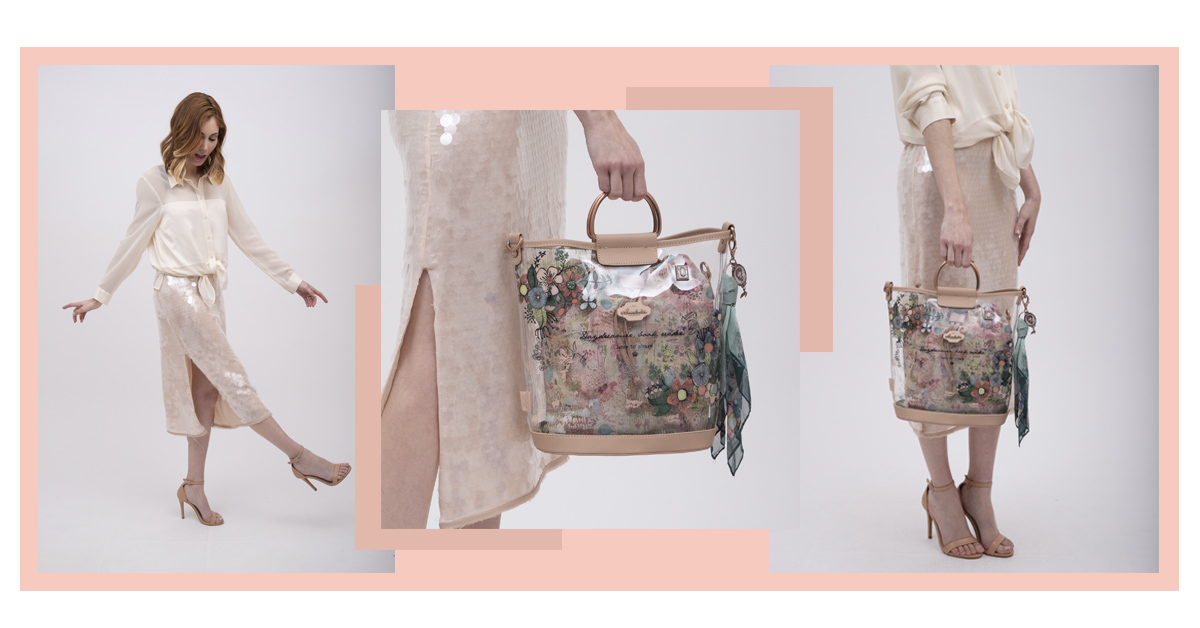 The vinyl bags are a fantastic option, because they will be one of the most popular trends this spring and summer. This model gives the look a sophisticated and cheerful air to it, which will catch everyone's eye wherever you go. Don't you think it is lovely? You can find it here. Or if you prefer to see the other vinyl bag options too, click here.
Trendy looks for casual events
It's time to have fun with friends, when you can still look original, without being excessively smart. This season long skirts and flowing trousers are going to be all the rage, together with safari style shirts and light materials, such as cotton or linen. Trench dresses and skirts with belts around the waist won't go unnoticed either.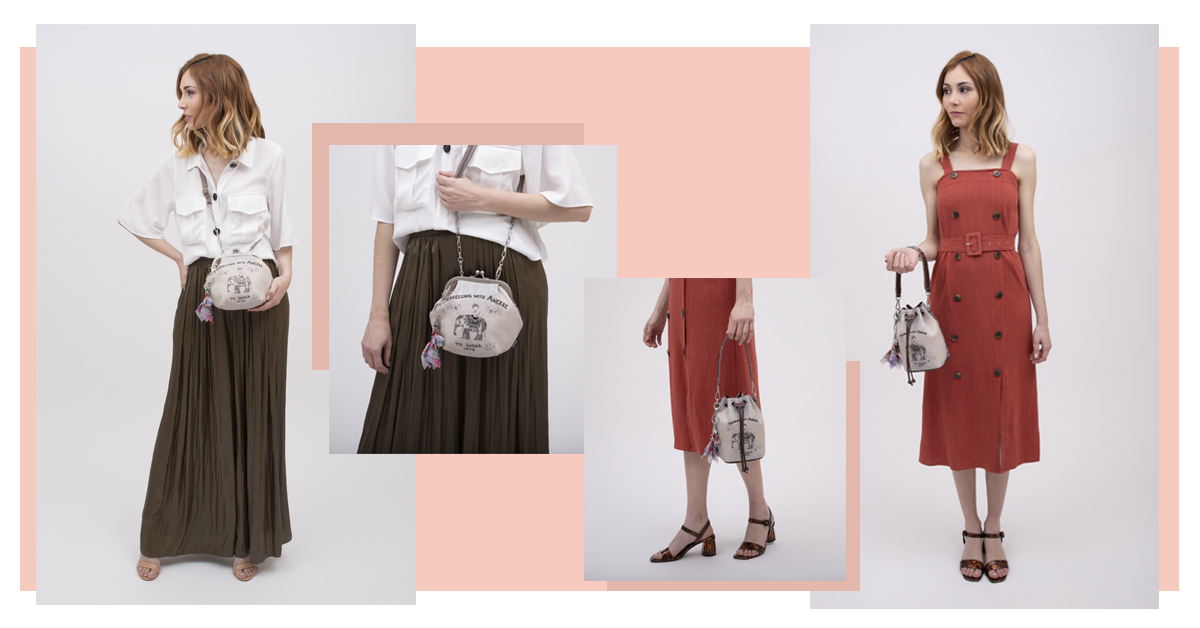 These styles are wonderful to finish off with delightful bags, whose formats and designs are extraordinary. For example the look on the left includes a bag with a kiss lock closure, which apart from being very pretty is super comfortable. Don't you just love it? You can find it here. On the right there is a drawstring bucket bag model, it is so pretty and cute that all your friends will ask you about it. Would you like one yourself? It is available on this link.
Handbags: the best party looks
Now for that party when you will look stunning: a wedding, an event that you are invited to, an important dinner… The hunt begins for the perfect dresses or tops and bottoms for this type of festive occasion, which is usually more complicated, seeing as every tiny detail counts.
However, the accessories in this type of look are the icing on the cake, they can make a look created with a simple dress seem really elegant. This season flowing, draped materials for full and wide garments are definitely in, such as the tulle or silk. The midi cuts produce a very tasteful effect.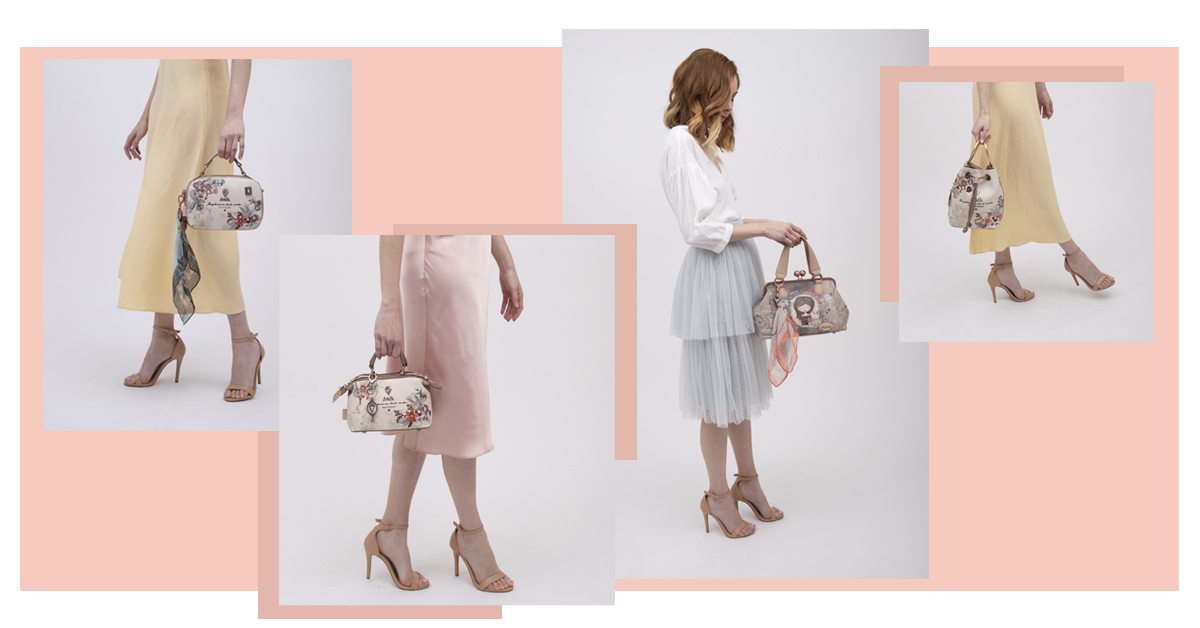 The small or medium size bags are usually the favourite options for this type of look, with original finishes or formats that really stand out. The first model that appears on the left comes with a printed design neckerchief, a very distinct chic touch. The handbag is the perfect size to take everything you need with you, and you can find it on this link.
The second model (on the left) is one of the top choices for events, because it satisfies all the normal requirements of users: it is small, elegant and crammed with details. You will buy it for a special occasion, but then you will use it for everything! You can find it here.
The third model is ideal for festive looks with fuller skirts or dresses that have more volume, with various layers and plain colours. Its combination of details and its appliqué will make it the highlight of your look. Discover it here!
The fourth model is so exquisite that you will always take it with you, to all your celebrations and events. The round metal handles round off its bucket bag shape to perfection, so you will be able to combine it with all kinds of plain dresses and clothes, it will be the star attraction for sure. Find it here!
And now, you just have to choose your favourite! Remember that you can visit the website to see the whole collection, by clicking here. Let's see if you can control yourself and buy only one!
How about you, what type of bag do you normally take to events? Don't forget to share your photos with me by labelling me in your Social Media sites with the hashtag #anekkelovers. See you soon! ?