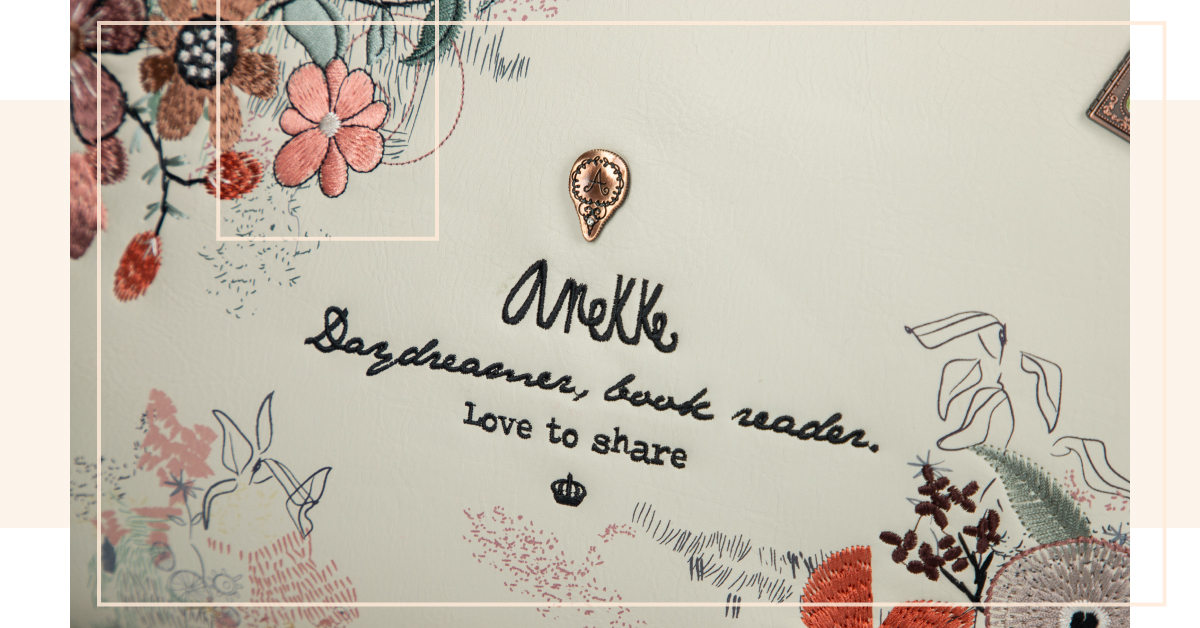 The taste is in the detail
We live in a fast paced world. We rush to work, to get that plane that takes us on holiday. To go to an appointment. Internet moves millions of pieces of data in a matter of seconds … but sometimes you just have to slow down a bit and take a breath of fresh air.
Walking peacefully, in touch with your surroundings. Listening to the sounds, looking at the flowers, the people. Sitting down to read a book, enjoying the words. Planning a trip and enjoying it. For some people, like me, this life philosophy, which is called a slow life, is becoming increasingly more necessary. That is to say, living a calmer life, enjoying the small things, the fleeting moments.
Perhaps it is precisely due to this way of seeing life that I care so much about the details. Indeed, the details are what actually make all the difference; they make anything a little more special.
As you already know, many things move and inspire me. Sometimes when I read a book, I imagine what the room is like where the main character is, how it is decorated. In others, I imagine what the flowers are like in the garden where something happens. Or when I come back from a trip, I try and capture everything that I have experienced, the colours, the smells, the special features of the place. I like to imagine every small element in a scene, what that woman was wearing, what was around her and capture it all in a printed design, recreating her world in mine.
That is why, when it comes to creating, that love for the little things is one of the big factors that make my brand different from others. For that reason I want to tell you a bit about this taste for detail, about how my team collects each small feature that inspires me and embodies it in products, to therefore create that special world that you are already part of.
Anekke Jane: from the inspiration to the product
At this stage, you already know that I am a keen reader and that reading is one of my favourite hobbies. One afternoon quite some time ago I was thinking about some of my favourite authors. Given the era when some of them were born, they were not recognised as being the great authors that they are, in some cases it was years before their work was given the praise that they deserved.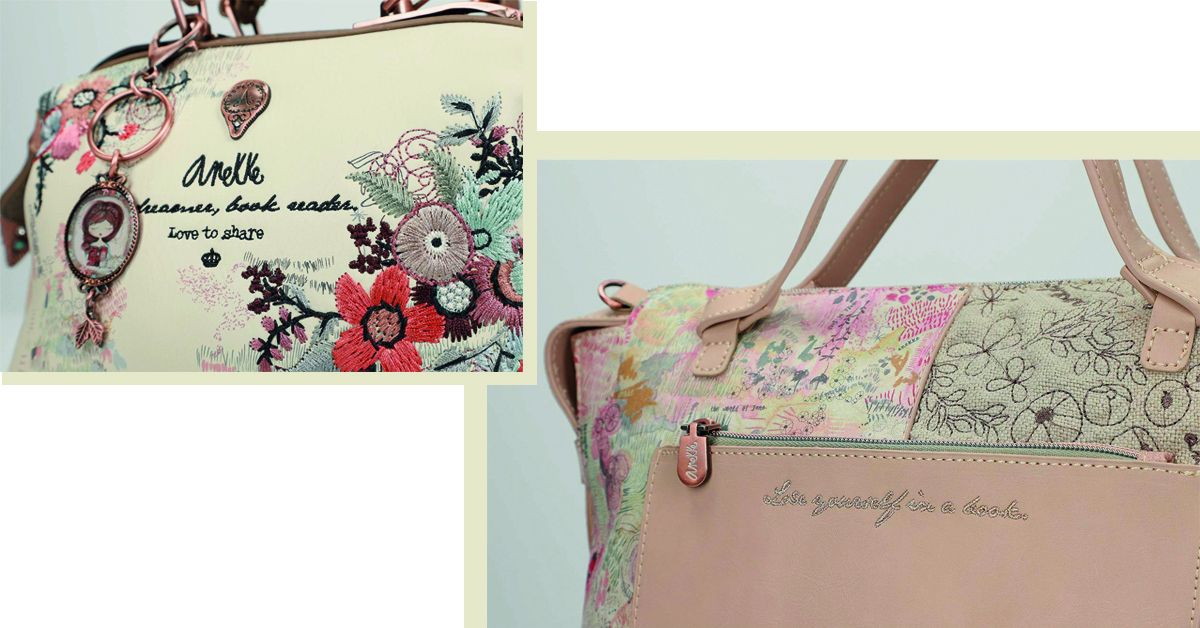 One afternoon I was reading a book, when I began thinking about all this. And those English gardens, that room in which that woman wrote some of her best literary work, the things around her when she was writing, they stirred my imagination.
When Jane started to come together as a collection, all these elements were incorporated into the printed designs. The exterior part of the bags and wallets are very elaborate. In this collection there are different designs, in which the patterns and embroidered flowers, different decorative appliqués, diverse blends of prints and fabrics, decorative key rings all stand out… Each combination is unique, making every bag and accessory of the collection a special model.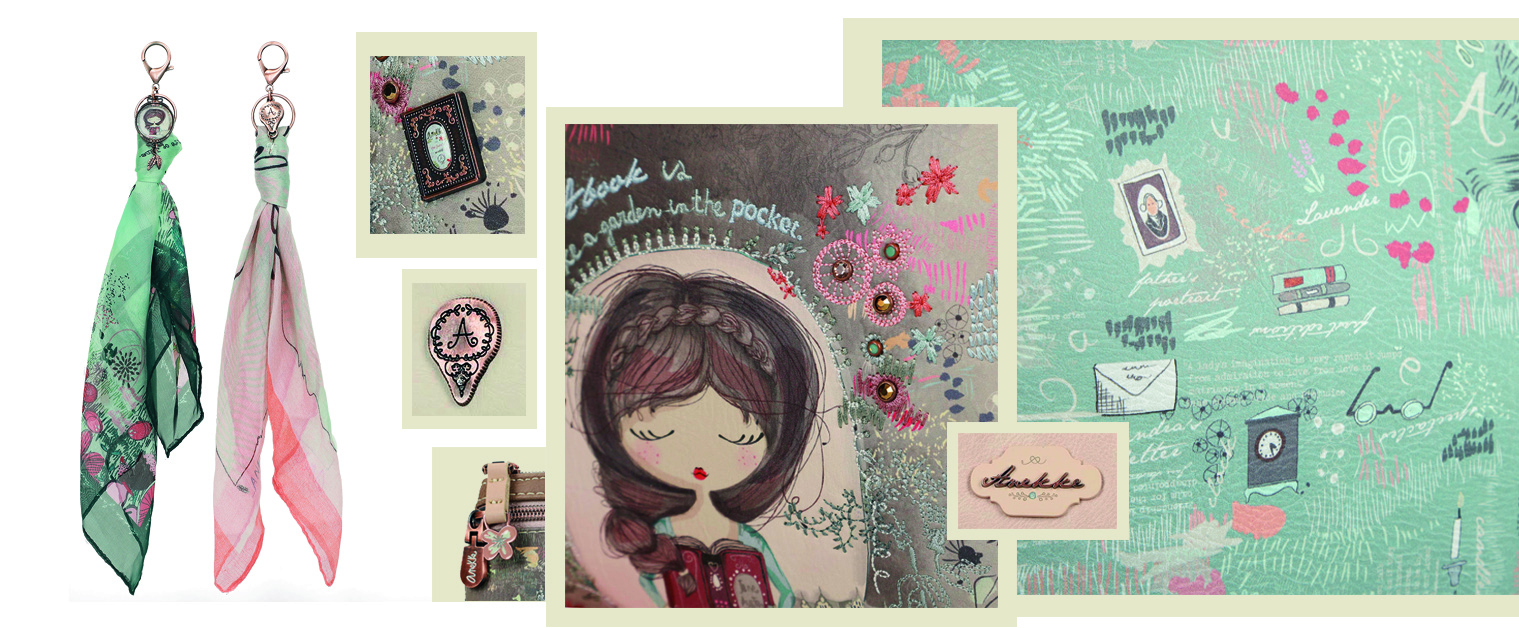 Moreover, in the vinyl collection, I wanted to play with different textures and materials, while I recreated those wonderful gardens. The transparent materials are combined with floral patterns and the inside of the bags are lined with faux leather that have motifs in different colours on them. Don't you think they are ideal?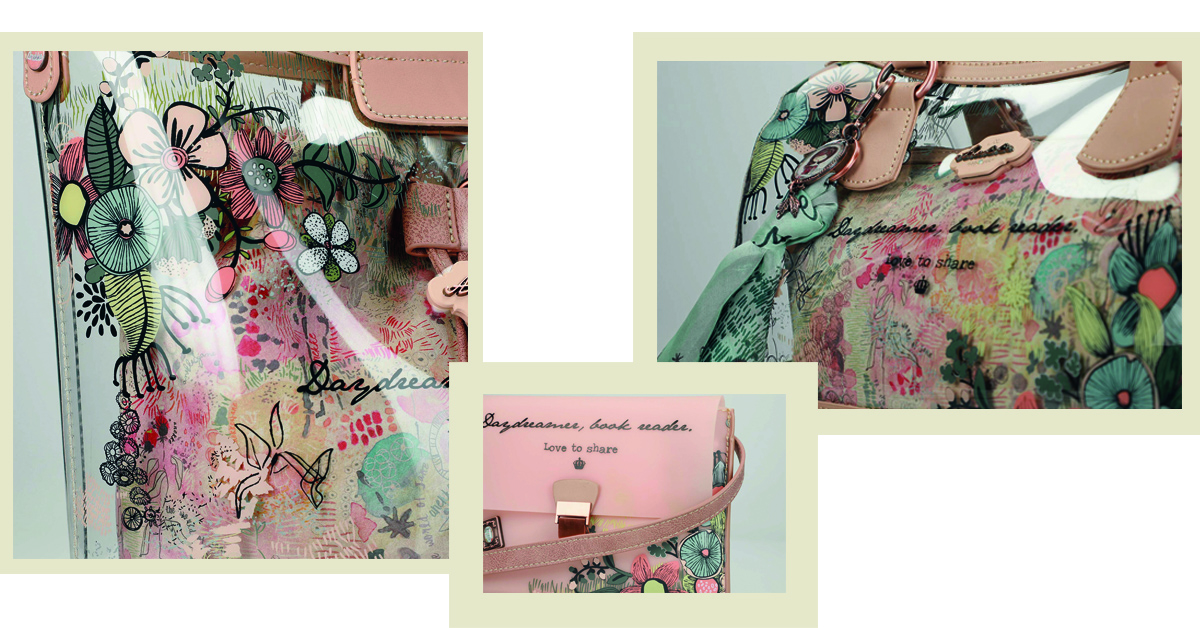 Because the inside is very important too, not only when it comes to people and I don't forget to use this maxim for the taste in the detail when it comes to the interior lining either. For example, in the Jane collection all the tiny features that I could imagine have been included: mirrors, mechanical watches, inkpots, paper, books, quills, envelopes…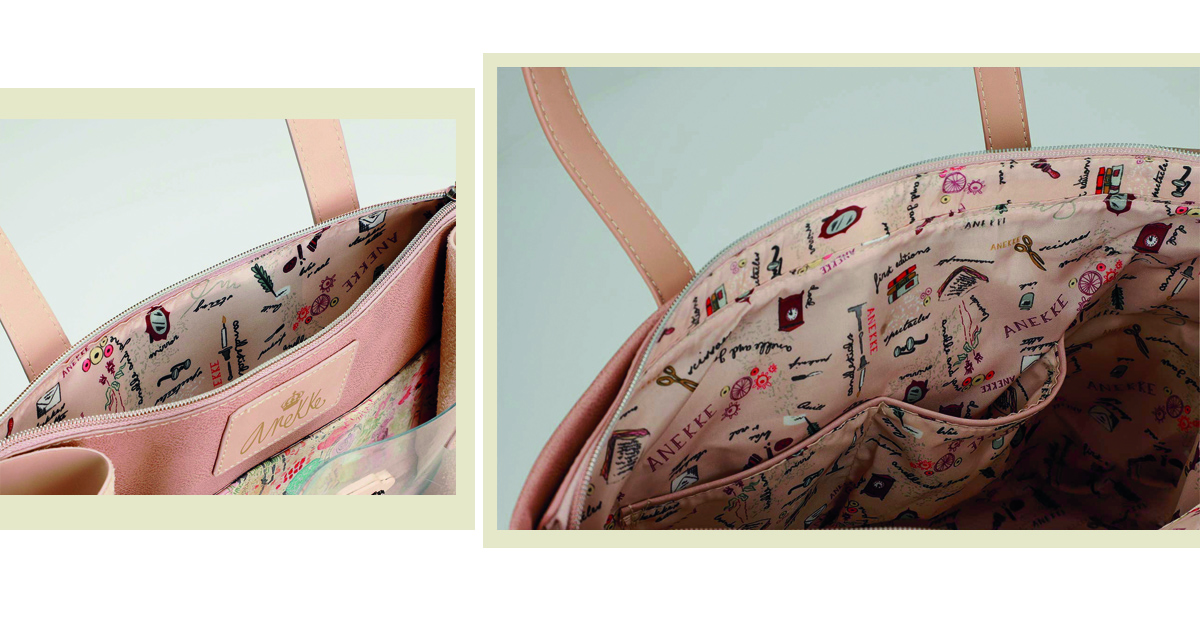 If you want to see more about the Jane collection, click here!
India: travelling inspiration
When you travel, your mind focuses on many features that don't normally exist in your daily life. During my trip to India with Towanda, I took the opportunity to study every detail, each motif and I tried to freeze everything in my photographs and what I wrote down in my travel notebook.
The magnificence of this country is conveyed in the printed designs and details of this collection, which has been inspired by our adventure. Printed designs, embroidery, decorative patches, iridescent tones on the materials, metallic appliqués…
Towanda was a fundamental part of the trip. He had his own adventures as well, something that I didn't want to overlook. One day I found him having a ride on an elephant… They became inseparable! So, in one part of this line he is the main character, in which there is a mixture of pastel tones with navy blue patterns and prints in bright colours on the back.
The iridescent details, the decorative key rings, the embroidered handles and metallic appliqués… are present in the whole collection. Some of the features that most impressed me during my trip are included on the lining too, such as the monuments, animals… It is really a country that is bursting with iconography, which is what I have tried to convey!
And if you want to see the India collection, click here!
Did you know about all these details on the products of my collections? Which ones are your favourites? I am convinced that the taste is in the detail. In a product in which every little corner, every handle, zip or embroidered motif has been thought of, to express that way I have of seeing the world and of course, to make you enjoy it, with products that are as special as you are.
So enjoy every moment, everything that surrounds you. And of course, make sure you have accessories made with such tender loving care as these with you. I hope you like them!
Big hugs,
Anekke and Towanda